Blast from the Past - The Sailor
The traffic for the site has gone up considerably since it first started (considerably is a relative term I know, but I was surprised that even 1 person not related to me would check the site out on a regular basis.)
Since these folks missed the early PRADE posts, I thought I'd feature one or two PRADE

"Blasts From the Past"

over the next couple of weeks to show them what they missed.
Here is a post from February 22 about a rum with an unusual history.
The Sailor
I spent this past weekend visiting my long-time friend in Nashville, TN. I can't really tell you too much about the place, because we spent most of Saturday on the high seas with
Sailor Jerry
. Sailor Jerry is a delicious spiced rum that comes in a bottle with one of the most unique and striking label designs I've seen (I did extensive research on alcohol labels in high school and college). The Sailor definitely treated us right even after we downed three bottles of his prized rum. After navigating my way back to DC, I did a little research into the story behind this mouth-watering (and 92 proof) rum. Yo ho ho.

The rum is apparently based on Sailor Jerry's personal recipe. I don't know if that part is true, but it is adorned with great artwork from Jerry, who was the pioneering tattoo artist in America. He studied the art of tattooing on his world travels, then opened up a tattoo parlour in Honolulu in the 30's, ensured a steady stream of clientele by his original and bold designs that were a hit with the flood of sailors in the area. You can learn more about the history of the man
here
.

The William Grant produced rum is part of a creative branding effort by
Gyro
Advertising in Philadelphia that includes a full line of Sailor Jerry clothing, accessories, and other products based on "Sailor" Jerry Collins' tattoo designs. They own the brand themselves - an interesting route for an advertising/pr fim to take, but one that has proven extremely successful. You might recognize Gyro's campaigns for clients such as Puma, but you will more likely recognize CEO Steven Grasse from his
angry face
in the Real World Philadelphia house.

So next time you are in the liquor store, think about engaging in mutiny against the Captain and go with Sailor Jerry.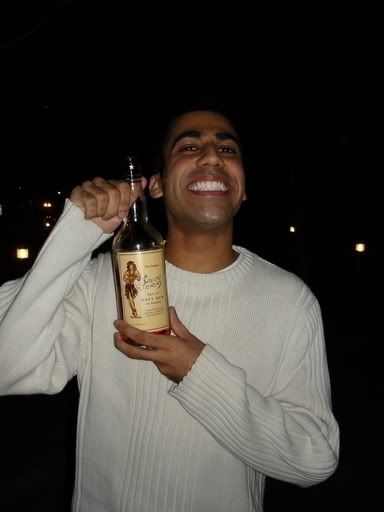 My small Indian friend, Jason, cheesing with the Sailor!