P.R.A.D.E. enters The Gates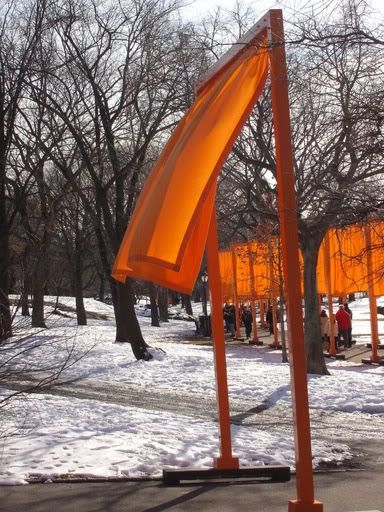 I'm sure everyone is exhausted with the coverage of The Gates, but I just got back from NY, and saw The Gates on their last day of existence. I must say that I can't do anything but support Christo and Jeanne-Claude for a number of reasons. For one, getting that many people to come and enjoy the beauty of Central Park in the winter can never be a bad thing. Plus, regardless of your personal opinion of the work, they engaged people in discussion about art and its purpose/function - and most were people that you won't find visiting MOMA or the Hirshhorn. (Interesting to note - Christo and J-C hired a sociologist to study the reaction to the work, and lower-income people enjoy the work more than high-income. When it comes to public art, this should be the target audience in my opinion. So, I think the masses are right on this one and the snobs can stuff it!)
But the thing I think I love most is just that people like Christo and Jeanne-Claude exist (and are successful!) in this world. These folks are characters (I had a Christo spotting yesterday in the park)! And the scale of their work is staggering. I watched a great documentary called
Rivers and Tides
about another environmental artist, and I was mesmerized at what he did with some rocks in a stream. But you have to admire the sheer audacity to propose wrapping the
Reichstag
or draping a curtain across a whole valley. And now, to put giant orange gates through every mile of pathway in Central Park! And extra props to them for funding the venture themselves, and not just cashing in and hawking the gates for a (EXTREMELY large) profit when they are finished, but actually recycling all of their materials.
I went into this work somewhat skeptical, but I truly left excited that artists like Christo and Jeanne-Claude are able to exhibit their creations on such a grand scale and eagerly awaiting their next creation. May I suggest vacuum-sealing the White House while Bush is still in it.
PS. Anyone else notice a resemblance between Christo and Mugatu?
P.S.S. Some delightful eccentricities of Christo and JC
"Keep in mind that the money we spend is our money," says Jeanne-Claude. "If we made a choice of buying a big estate in Aspen, Colorado, or to cover myself in diamonds, we can also do it. Because it's our money. But it would be very uncomfortable to be covered in diamonds."
The issue of securing the steel gates had become crucial, given a tragedy that occurred with their
Umbrellas
installation in California. One of the umbrellas was unmoored by a freakish, swirling wind, and took flight, resulting in the death of a spectator.
"Nobody speaks to Christo!" says his wife and collaborator, Jeanne-Claude, in her dramatic Parisian accent. "Christo is working seventeen hours a day on the drawings we must sell to pay for
The Gates
. Without these sketches, there will be no
Gates
!"
"Nobody speaks to Christo" has to be put on a T-shirt somewhere.
On Christo's diet and work ethic: "Sometimes he comes down to eat raw garlic, which he eats three times a day," says Jeanne-Claude. "A total of one head of garlic a day, raw, like candies. With some yogurt. And sometimes a glass of soy milk. That takes him about three minutes. Then back to the studio."