Concrete Canvas
It is so inspiring to hear of students creating innovative and potentially life-changing designs before they've even received their diplomas.
William Crawford and Peter Brewin are industrial design engineering students at the
Royal College of Art in London
, and their project, Concrete Canvas, is already turning heads among those looking for better temporary shelter solutions for disaster and war ravaged areas of the world.
Concrete Canvas is essentially a "building in a bag" - a sack of cement-impregnated fabric bonded to an inflatable inner surface. In order to put up the "rapidly deployable, inflatable concrete emergency shelter," all you do is add water to the bag and fill it up with air - no need to worry about the water-to-cement ratio, as you merely fill the bag up. Twelve hours later you have a concrete structure with 172 sq feet of floor space - that can even be delivered sterile for medical use in disasters.
The award winning design offers the portability and ease of assembly of emergency tent shelters, with the durability of prefab buildings - with the cost coming in somewhere in between the two.
The idea has already piqued the interest of organizations working in disaster regions, including Monica Castellarnau, program head for Medicins Sans Frontieres in Uganda, who said "If this was available now, we would buy 10 today." As for where the project is at the moment, Peter informed me, "We currently have a 1/8 scale working prototype and we're trying to get seed funding to enable us to develop a full scale prototype and ultimately set up a company to put the shelters into production."
Below are some photos provided to me by Peter of the 1/8 scale prototype and some concept images for deploying the shelters. Enjoy and marvel at the simplicity and practicality of good design.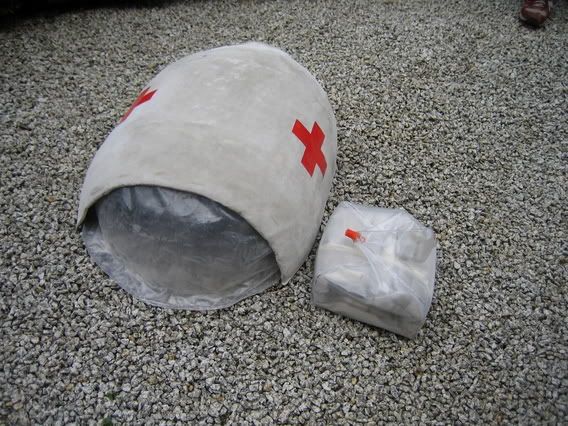 Via
Wired