Goliath Stomps Into Harlem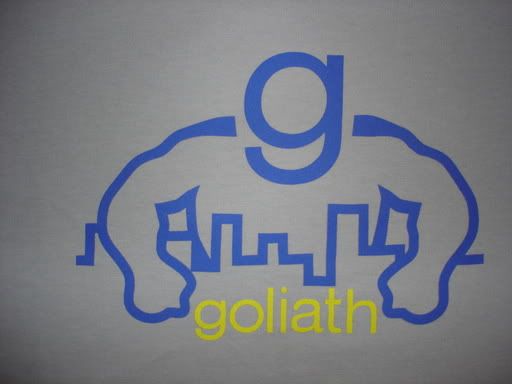 Last weekend I was up in NY, and decided to take the opportunity to head up to Harlem and scope out a new sneaker spot called Goliath that I heard about on
Freshness
.
Well Goliath is definitely a dope spot, and is now permanently on my rotation of sneaker stores to check out when I hit NYC. The store inhabits an old bar, and the owners have embraced the space's past life, using the old bar as the sales counter, complete with stools and coasters that act as business cards.
I had the chance to meet the owner Rosemary Frazier, a true sneaker freak who definitely knows the kicks game. She told me the goal of Goliath is
"to be the premium supplier of exclusive sneakers in Harlem."
Additionally, Goliath hopes to
"introduce apparel brands (10 Deep, Exact Science, Royal Filth) that are rooted in the urban and hip-hop lifestyle, but were not sold in Harlem. To achieve our goal we are committed to providing our customers with great service."
The service was definitely friendly and personal, and Rosemary told me she can even identify all her returning customers by their sneakers. When you get that type of attention, you'll probably be coming back. The store has some great t-shirts and other gear like hoodies and warm ups, and the Goliath logo was eye catching enough to make me snatch up one of their t-shirts.
The inventory has a good variety, from a slew of colorways of Bathing Apes to some Raygun Dunks, and even a pair of all gold Nike's that my friend @trice had his eyes on. Many of the shoes are imports, and Rosemary told me that the Jamaican colorway of the 95 air max's were on the way, which would make Goliath the first stateside store I know to have them. Prices are not a bargain but are fair, and it is worth making your way up to Harlem (if you aren't from the neighborhood) to support a new stop on the New York kicks circuit.
Goliath
175 E 105th Street
New York, NY 10029

goliathrf@verizon.net
212.360.7683 Store
Tuesday - Sunday 12-7pm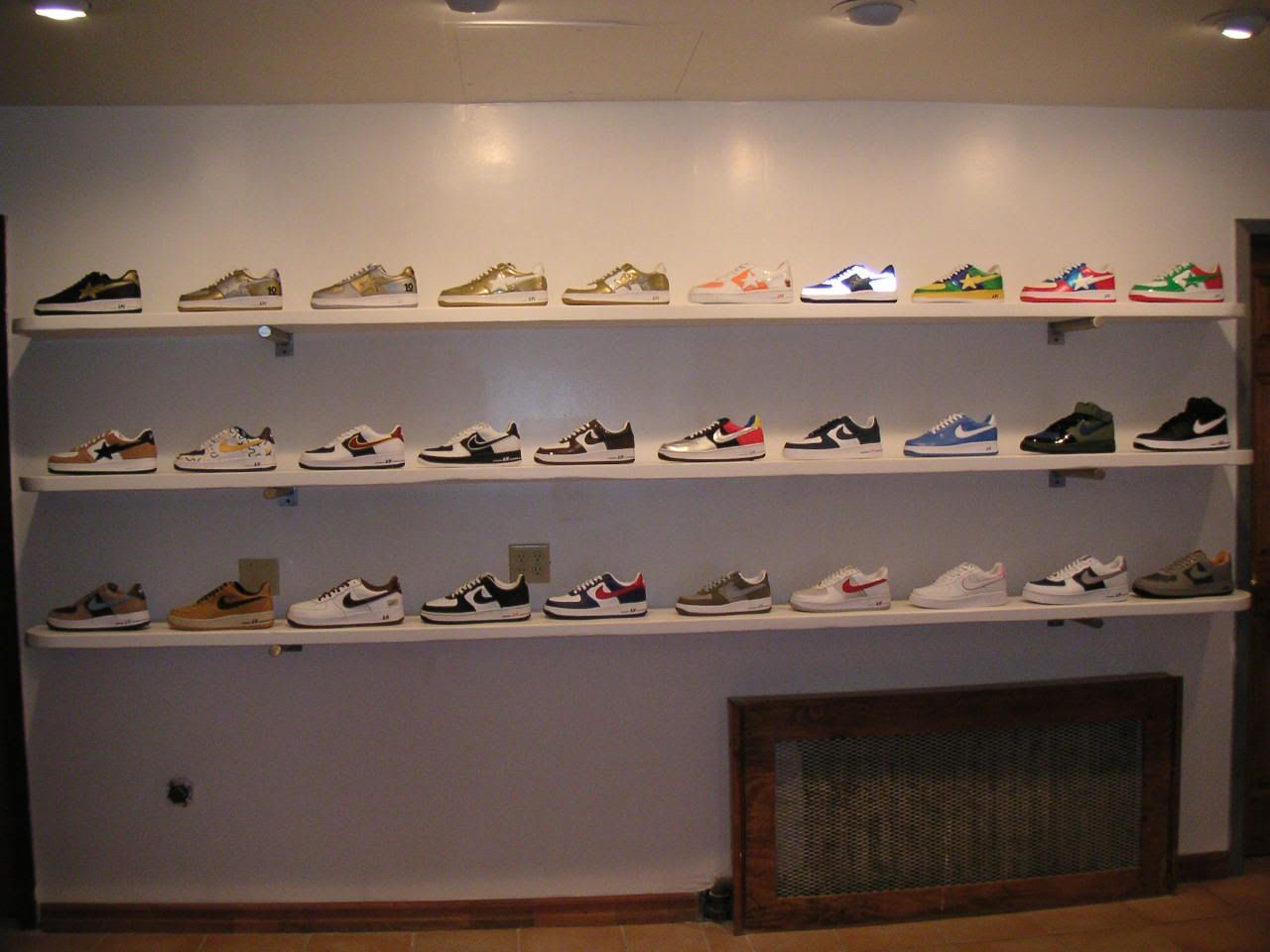 A sample of what Goliath has to offer.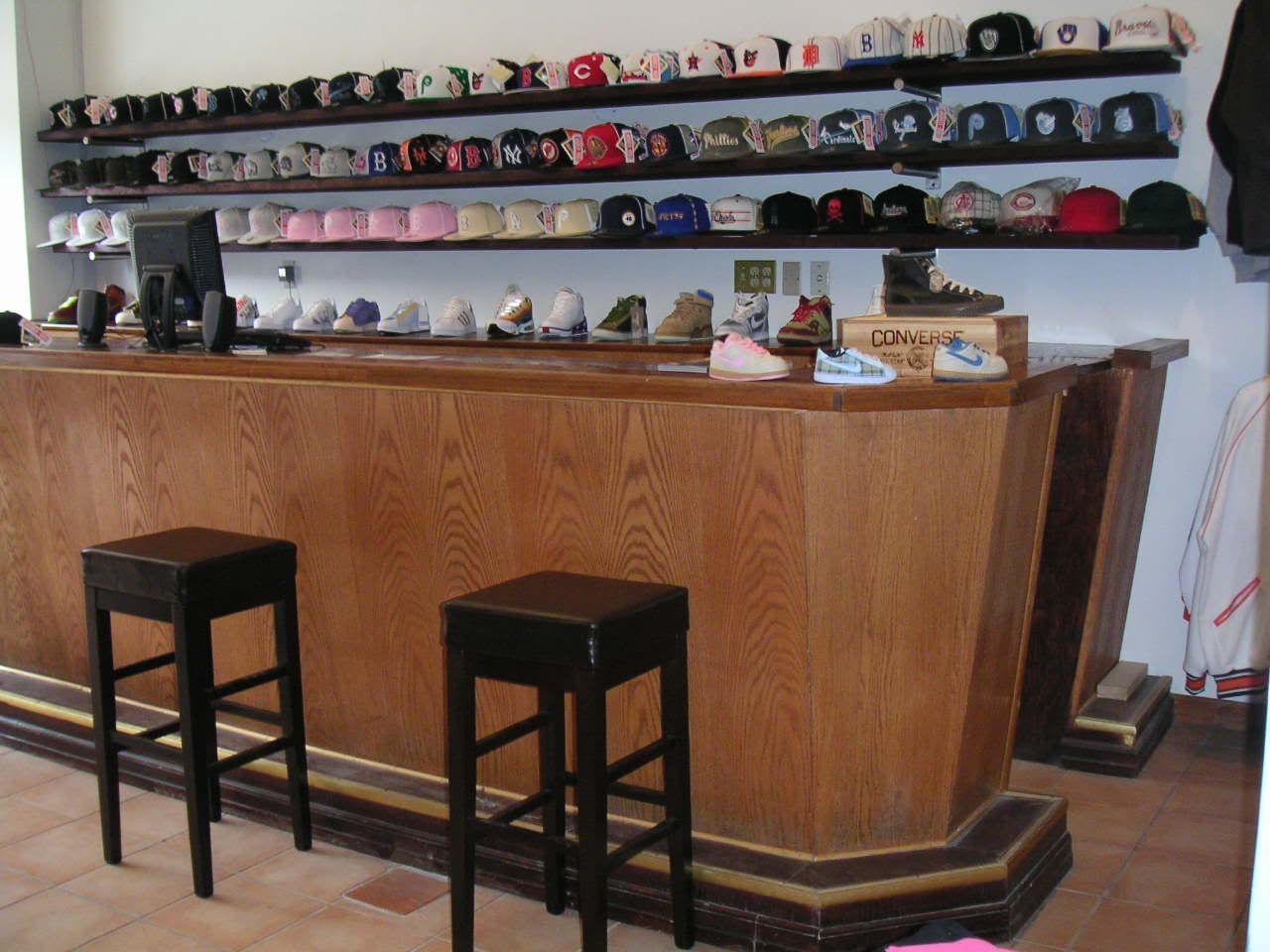 The bar at Goliath - with their extensive selection of hats.