The High Line
The High Line is everywhere in the blogsphere right now. But for the uninitiated - here is the basic info on the project.
The High Line is a project intended to preserve and reuse a 1.5-mile-long historic elevated rail structure on the West Side of Manhattan. The effort is being led by the non-profit group Friends of the High Line.

Constructed between 1929-1934

and spanning 22 blocks (from 34th St to Gansevoort St.), the High Line sports

6.7 acres of space atop elevated rail deck, towering up to 30 ft above street level.
The goal is to transform the unused railway into a natural, public space and walkway featuring extensive green areas and tranquil views of the city.
Following an open design submission competition, the team of

Field Operations (landscape architecture) and Diller Scofidio + Renfro (architecture) were chosen to begin design work on the High Line.
Curbed has a great feature sharing the most recent plans for the line - including some great looking images of the imagined site. The new plans and a large scale model are now on display at MoMA and there is a great article on the project in the New York Times.

What's really interesting to me is the thought that is going into preserving the
image of the line as a naturally overgrown metal skeleton - a relic of the industrialized city. Designers hope to maintain a sense of the "romance of the ruin" and the site's magic as a "found landscape," while still making it pedestrian friendly and safe. Combine that with the plans for floating gardens, lily spotted wetland habitats, and beds of wildflowers, and the High Line could become a unique, and decidedly urban, oasis.
The High Line today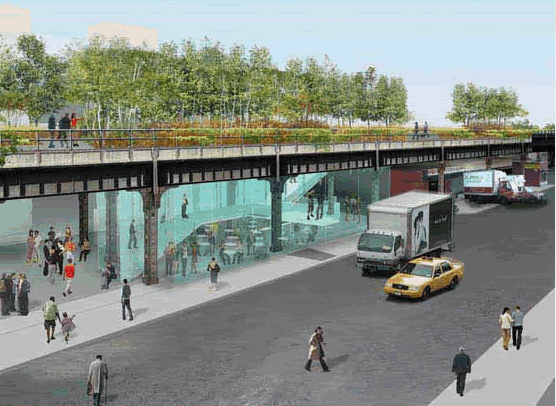 The High Line of tomorrow?
Via
Archinect