Adidas Reebok Merger
News is just coming in
that a deal is in the works for adidas to buyout Reebok.
This teaming-up of the titans will potentially create a huge shift in the sneaker and athletic-wear market. Although it appears both brands will continue to exist under the adidas umbrella, the merger will combine in one company the celebrity and exclusive league apparel deals that Reebok has with the international clout the adidas brand enjoys in Europe and Asia.
Details of the future plans for both brands haven't surfaced yet, but I personally would love to see an additional new line that could wed adidas and Reebok styles and create something unique and different.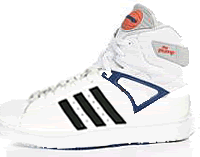 No comment from Nike yet - the leader in the domestic sneaker game. But I imagine this can't be welcomed news from their standpoint. It definitely overshadows their recent purchase of Converse.
Developing.
Thanks to
my brother
for the heads up.